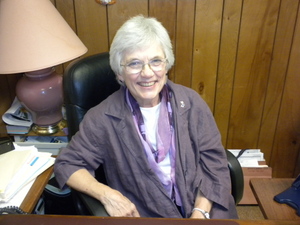 Joyce A. Phipps
Joyce A. Phipps, Director/Attorney
Provides legal representation to immigrants and their families with DHS/USCIS and DOJ. Assists with the training and supervision of staff and law school students. Develops and presents professional training and workshops for service providers, clergy, community and government leaders.
Education
• J.D., University of Connecticut School of Law, West Hartford, CT 1986
• M.Div., Yale Divinity School, New Haven, CT 1976. With honors.
• M.L.S., Southern Connecticut State University, New Haven, CT 1973
• B.A., University of Maryland, College Park, MD 1963. With high honors.
Admitted to Practice:
Connecticut, New Jersey, Federal District and 3rd Circuit Court of Appeals
Ministerial Standing:
Ordained to ministry, United Church of Christ, February 1999. Pastor, Old First Church Middletown (2003-Present); Faith United (2002-2003); Emmanuel UCC (1999-2002)
Publications
•
Death's Single Privacy: Grieving and Personal Growth
(Seabury, 1973)
• "Immigration and the Latino Community,"
Women's Rights Law Reporter
(Rutgers, 1996)
• "How Ministers can help the Unemployed,"
Christian Ministry
(March 1984)
• "What Really Happens When Your Husband Dies,"
Christian Century
(February 21, 1973)
• Opinion pieces published in
The Star Ledger
,
The Hartford Courant
, and
The New York Times
Community and Civic Experience
Attorney Joyce Antila Phipps has also been active in a number of immigration related organizations, such as IRATE/First Friends (focusing on detention issues) and the New Jersey Immigration Policy Network as well as the Rutgers Campus Protestant Ministry, the New Jersey Council of Churches, the NJ Interfaith Partnership for Disaster Recovery assisting victims of 9-11 and massive flooding in New Jersey, the Union County Human Relations Commision, the Plainfield Health Center Advisory Board, and Faith, Bricks & Mortar (rehab housing in Plainfield).